I am developing a programming tool extension on the Windows 10 version of Libre Office 6.3 and have run into a difficulty packaging the macros and related menu/toolbar/context menu components into an extension. While I have been able to add menu and tool bar changes using ADDON.XCU xml, specifications, I have been unable to find a method of packaging my context menu changes.
Below is an example of the type of context menu change I would like to package, highlighted and circled: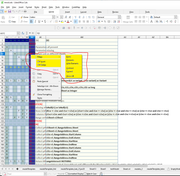 Ideally, I would like to include these changes as something similar to the specification used for adding and merging menus and toolbars in the extension package.
Alternatively, I would be open to building these menus dynamically, using a basic macro, if someone can point me to appropriate documentation and/or examples.
Does anyone know of documentation, posts or examples explaining how to accomplish this using either of these techniques, or can suggest another method of modifying context menus from an extension.
Thanks in advance – david.